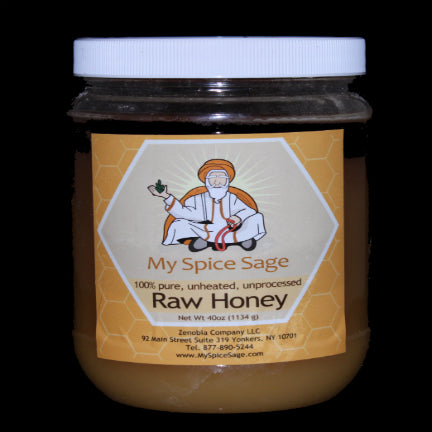 Raw Honey
Also Known As:
Unheated, Unfiltered, Unprocessed Honey
Origin:
USA
Ingredients:
100% Pure Raw Honey
Taste and Aroma:
Rich flavor and floral notes; due to the bees' pollinating grounds of wild flower fields and minimal processing of this natural product, each batch may taste slightly different.
Uses:
Raw Honey has a relatively thicker texture than commercialized processed honey and it can be used as a spread on bread or crackers, as a sweetener in recipes or by the spoonful to fight colds.
Substitutes:
Raw Manuka Honey Active 16+
,
Raw Manuka Honey Active 12+
,
Bee Pollen Granules
,
Bee Pollen Powder
,
Honey Granulated
and
Honey Powder
Fun Fact:
Because raw honey is minimally processed, all of the naturally occurring enzymes, vitamins, minerals, antioxidants and bee pollen are maintained. Some doctors recommend treating seasonal allergies with a tablespoon of raw honey a day to build up immunity to pollen.