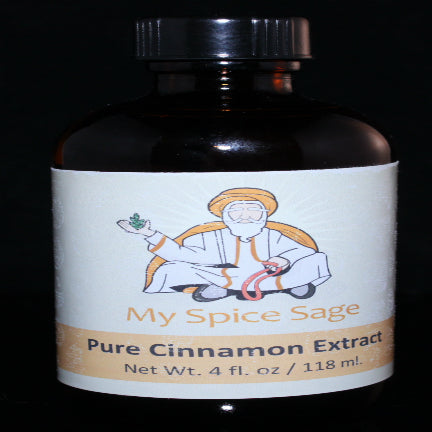 Cinnamon Extract
Also Known As:
Liquid Cinnamon Extract
Origin:
U.S.A.
Ingredients:
Propylene Glycol, Alcohol, Water and Extractives of Cinnamon
Taste and Aroma:
Intensely sweet and tastes like the ground spice.
Uses:
Cinnamon extract can be used in beverages, baked goods, ice cream and syrups. It is excellent in coffee, tea, mulled cider, beer, sangria and wine or anywhere a flavor, reminiscent of the ground spice is needed. Savory applications of the extract include roast pork, chicken or lamb dishes, chili, soup and stews.
Substitutes:
Ceylon Cinnamon Powder
,
Ceylon Cinnamon Sticks 3 Inches
,
Saigon Vietnamese Cinnamon Ground
and
Saigon Vietnamese Cinnamon Whole
Fun Fact:
Cinnamon is one of the oldest spices known. It was mentioned in the Bible and was used in ancient Egypt not only as a beverage flavoring and medicine, but also as an embalming agent.